Experience the epitome of simplicity and efficiency in vial labeling with Devikrupa Industries - Vial Sticker Labelling Machine. Crafted as a linear design marvel, this sticker labelling machine is engineered to seamlessly label glass vials and bottles with precision and speed.
At the heart of this equipment lies a modern Micro Processor Control Label Dispensing mechanism, enriched with a cutting-edge sensing system for both labels and products. This vial labeler is uniquely designed to apply transparent "No Look" labels on vials at remarkable speeds, owing to its optional special label sensing system. Notably, transitioning from one vial size to another requires no change parts or format alterations, underscoring its adaptability.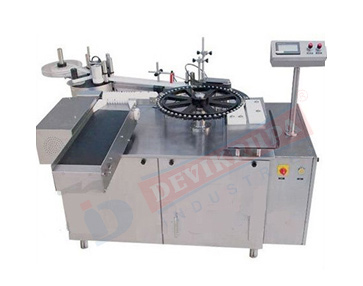 Semi Automatic Vial Sticker Labeling Machine
Setting new benchmarks in automatic vial labeling in India, our machine boasts a distinctive single-point synchronized speed control system. Moreover, we offer specialized machine models equipped with Automated Label Length detection systems. This innovative feature eliminates the need for manually feeding and storing Label Length data, ensuring seamless transitions between label sizes without any downtime.
For enhanced functionality, our vial labeler can be accompanied by an optional Turn Table, facilitating the continuous transfer of vials from capping or inspection machines to labeling units and onward to packing conveyors or inspection systems. This holistic approach ensures a streamlined labeling operation for vials.
Vial Sticker Labeling Machine Manufacturer India
Our commitment to safety and versatility shines through in the optional inclusion of a Toughened Glass or Acrylic Safety Cabinet, showcasing our dedication to offering a comprehensive solution. Devikrupa Industries' Vial Sticker Labelling Machine encompasses all essential features as standard, a testament to our responsiveness to the evolving market requirements.
These versatile sticker labelers are not only suitable for pharmaceutical applications but also find their utility in eye drop labeling and plastic vial labeling, catering to a diverse range of needs. As a leading name in the industry, Devikrupa Industries presents a vial labeling solution that transcends the ordinary and empowers your production processes with innovation and efficiency.