Devikrupa Industries, based in Ahmedabad, India, is a renowned manufacturer, supplier, and exporter of high-speed carton coding machines. These machines are designed to print important information such as Batch Number, Manufacturing Date, Expiry Date, and Maximum Retail Price (MRP) on both porous and non-porous surfaces of cartons using rubber stereos.
A Carton Coding Machine, also known as an Automatic Carton Coding Machine, is a specialized equipment designed to print essential information such as batch numbers, manufacturing dates, expiry dates, barcodes, and other product details directly onto carton packaging. This machine plays a crucial role in various industries, ensuring accurate and consistent coding to comply with regulatory requirements and enhance product traceability.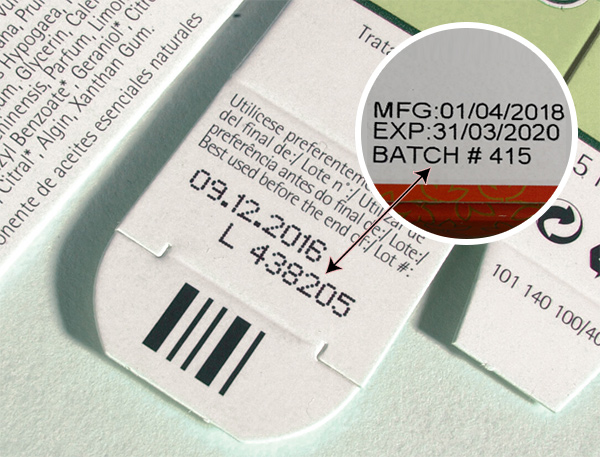 Automatic Carton Coding Machine Manufacturer & Supplier
The Automatic Carton Coding Machine uses advanced printing technologies like inkjet, thermal transfer, or laser to create high-quality and durable codes on carton surfaces. These codes provide crucial information for tracking and identification purposes throughout the supply chain.
One of the key advantages of the Automatic Carton Coding Machine is its ability to work seamlessly within production lines. It can integrate with conveyor systems and packaging processes, enabling real-time coding as cartons move through the line. This automation minimizes errors and increases efficiency, ensuring that each carton is accurately coded without slowing down the production process.
Industries such as pharmaceuticals, food and beverage, cosmetics, electronics, and more rely on Automatic Carton Coding Machines to meet regulatory compliance, ensure product authenticity, and provide crucial information to consumers.
Salient Features of Automatic Carton Coding Machine
Electro-Mechanical Fully Automatic System: Our high-speed carton coding system operates with precision and efficiency, ensuring accurate coding for your products.
Efficient Carton Feeding: The sloping plane tray (dispenser) facilitates seamless carton feeding, enhancing the overall performance of the coding process.
Smooth Carton Picking: A rubber friction insert is integrated for smooth and precise carton picking, preventing disruptions and ensuring consistent operation.
Alignment Enhancement: The guide track mechanism guarantees proper carton alignment during the printing process, maintaining the integrity of the codes.
Reliable Printing: Our machine's design is reminiscent of rotary letterpress technology, which ensures consistent and reliable code printing every time.
Uniform Ink Dispersion: An oscillating roller evenly disperses ink, resulting in a uniform ink film thickness across the carton's surface.
Effective Image Transfer: The inking roller efficiently transfers ink to the stereotype, ensuring accurate image transfer for clear and sharp impressions.
Continuous High-Speed Operation: Our machine is optimized for continuous high-speed operation, maximizing productivity on your production line.
High-Quality Codes: The system consistently delivers clear and sharp impressions, producing high-quality codes that meet industry standards.
Versatility in Coding: With the capability to handle more than 200 impressions per minute, our machine supports multiple line code printing, offering versatile coding options to suit your needs.
Ideal for High-Speed Lines: Suited for high-speed production lines, our machine ensures seamless integration without compromising accuracy or speed.
Devikrupa Industries takes pride in offering an Automatic Carton Coding Machine with these exceptional features. Our machine's advanced technology, efficient design, and high-speed capabilities make it an invaluable asset for industries seeking reliable and precise carton coding solutions.
Technical Specifications of Carton Coding Machine
Model
DI -250 C (STD/GMP)
Printing Speed
125 Carton per minute
180 Carton per minute
250 Carton per minute
Depends on carton's shape & size
Printing Area
Max. 45 mm X 75 mm.
Printable Content
Text, Barcodes, QR Codes, Graphics, etc.
Power Supply
Motor of 3 or 1 Phase / 0.25 HP/ 414V or 220V / 1440 RPM
Control Panel
Touchscreen with User-Friendly Interface
Coding Options
Single Line, Double Line, Multi-Line
Image Transfer
Inking Roller with Stereotype Transfer
Alignment System
Guide Track for Proper Carton Alignment
Feeding Mechanism
Sloping Plane Tray with Rubber Friction Insert
Continuous Operation
Yes, High-Speed Production Capability
Impression Quality
Clear and Sharp Impressions
Versatile Coding
Multiple Line Code Printing Capability
Suitable Industries
Food, Beverage, Pharmaceutical, Packaging, etc.
Dimensions
863mm (34") Length
762mm (30") Width
610mm (24") Height
Weight
115 Kg. Approx.
Construction
Sturdy and Durable Materials
Safety Features
Emergency Stop, Overload Protection
Installation
On-Site Installation and Training Available
Note: Specification of the machine is subject to change without prior notice.
Optional Accessories at extra cost:
Variable frequency AC drive.
Digital Counter with Sensor.
* STD model machine is with Powder Coated and Shafts are form SS material hard & grind. Other parts, Brackets are from Mild Steel or C.I. with chrome plated.

* GMP model machine is with SS 304 Material cladding on cast iron main body & top plate. All other parts like shafts, collars and Brackets, Magazine Plate, Collection, Hopper Cover for gear and other parts are from SS 304, Aluminum, and Gun metal material. All the gear from Graded Cast Iron Material.
Our Carton Coding Machine is designed to meet the technical demands of various industries, offering efficient carton coding solutions with a user-friendly interface, consistent high-speed operation, and versatile coding capabilities. With precision engineering and a commitment to quality, this machine ensures accurate and reliable carton printing for your production needs.
Applications of Automatic Carton Coding Machine
The Automatic Carton Coding Machine finds its applications in a diverse range of industries where efficient and accurate carton coding is essential. Some of the key applications include:
Pharmaceutical Industry: The machine is used to print batch numbers, expiry dates, and other regulatory information on pharmaceutical cartons, ensuring compliance with industry regulations and enhancing traceability.
Food and Beverage Industry: It is employed for coding packaging of food and beverage products with information like manufacturing dates, nutritional information, and barcodes for quality control and inventory management.
Cosmetics and Personal Care: The machine helps in printing manufacturing and expiration dates, product codes, and usage instructions on cartons of cosmetics and personal care products.
Consumer Goods: Cartons containing household products, electronics, and other consumer goods are coded for effective tracking, pricing, and branding purposes.
Automotive Parts Packaging: In the automotive industry, the machine is used to print product details, barcodes, and part numbers on cartons of automotive parts.
Electronics Industry: Cartons housing electronic devices and components are coded with batch numbers, serial numbers, and other relevant information for quality assurance and warranty tracking.
Apparel and Textiles: The machine assists in printing size information, fabric care instructions, and brand logos on cartons containing clothing and textiles.
Industrial Packaging: In industrial settings, cartons carrying machinery parts, tools, and equipment are coded for inventory management and identification.
Logistics and Warehousing: For efficient tracking and sorting in warehouses, the machine codes cartons with shipping information, barcodes, and destination details.
E-commerce and Retail: Carton coding facilitates effective inventory management, pricing, and tracking for e-commerce and retail businesses.
Healthcare Industry: Medical supplies and equipment packaging are coded for traceability, regulatory compliance, and patient safety.
Agrochemicals and Fertilizers: The machine helps in coding cartons of agrochemicals and fertilizers with usage instructions, safety precautions, and batch details.
Chemical Industry: In the chemical sector, cartons containing chemicals are coded with hazard warnings, safety instructions, and batch information.
FMCG Packaging: Fast-moving consumer goods like soaps, detergents, and cleaning products are coded for clear identification and traceability.