Introducing the DI 60 ALF Automatic Liquid Filling Machine by Devikrupa Industries – a fusion of compact design, versatility, and elegance. This liquid filling marvel is encased in a sophisticated matte finish body, reflecting a blend of aesthetics and functionality. The DI 60 ALF sets a new benchmark in liquid filling, boasting an impressive production capability of up to 80 bottles per minute.
Catering to industries like Pharmaceuticals, Food, Dairy, Chemicals, Cosmetics, and Beverages, the DI 60 ALF is a workhorse that delivers impeccable results. The speed of this liquid bottle filling machine adapts to various factors, such as liquid nature, container diameter, container height, neck size, and filling volume. Its construction adheres to cGMP guidelines, presenting a fully stainless-steel finish, including the machine's frame structure.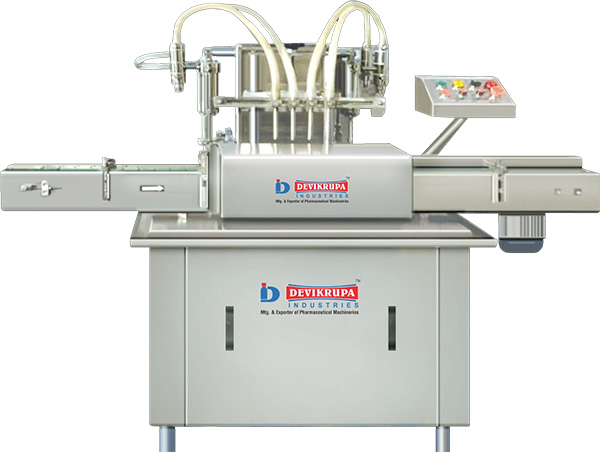 Model : DI 60 ALF
Automatic liquid Filling Machine Manufacturer in India
Witness the seamless coordination of the DI 60 ALF with optional turn tables at both in-feed and out-feed, equipped with individual drives to synchronize with incoming and outgoing bottles. This intelligent design ensures uninterrupted and smooth operations. Rest assured, all contact parts of this machine model are composed of premium Stainless Steel 316, affirming its commitment to safety and quality.
Devikrupa Industries presents an extensive array of bottle filling machines to accommodate diverse liquid types and formulations. Our bottle liquid filling machines encompass various technologies, including the innovative automatic liquid bottle filling system. Widely utilized in chemical and detergent manufacturing, this system utilizes diving nozzles, resulting in foam-free filling. The 'No Bottle No Fill' system further enhances efficiency by pausing the machine when containers are absent.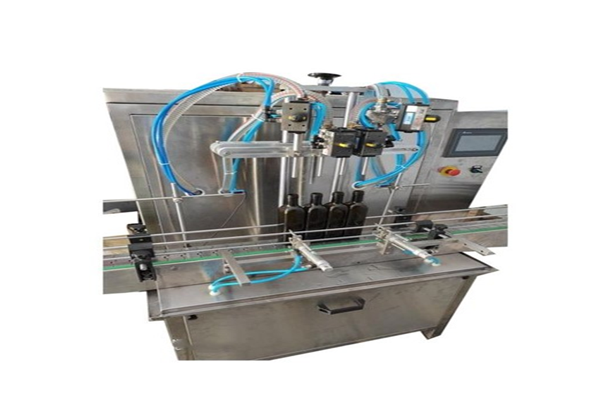 Automatic Servo Based Liquid Filling Machine
Experience unparalleled automation with the DI 60 ALF, as it autonomously manages the infeed and exit of bottles. Changeover time is minimized, thanks to the machine's swift adaptability. The built-in variable frequency A.C. drive system enhances its performance, while a remarkable accuracy of +/-1% ensures precise filling. Operating at 220V A.C single phase, this machine is a harmonious blend of efficiency and power conservation.
With the DI 60 ALF Automatic Liquid Filling Machine, Devikrupa Industries paves the way for excellence in liquid filling. Elevate your production standards and entrust your liquid filling needs to a solution that perfectly aligns with your industry requirements.