Introducing Devikrupa Industries cutting-edge Automatic Round Bottle Sticker Labeling Machine , a game-changer in the world of labeling technology. Designed for efficiency and precision, this sticker labelling machine is tailored to cater to the labeling needs of round vials and smaller-sized bottles.
A powerful Micro Processor Control Label Dispensing System and an easy-to-use Sensing system for both labels and items are features of this cutting-edge technology. Depending on the product's diameter and label size, the automatic sticker labeling machine has a remarkable capacity and can label up to 100 units per minute.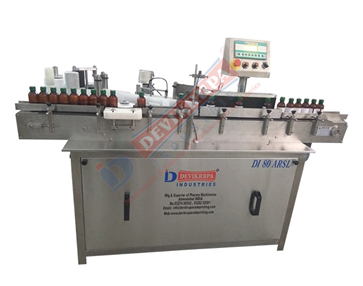 Automatic gum labeling machine
Semi Automatic Sticker Labeling Machine manufacturer India
The Semi Automatic Sticker Labeling Machine is designed to label vials and tiny bottles made of a variety of materials, including glass, plastic, PET, HDPE, and PP. It is distinguished by its adaptability. The machine's speed range, which ranges from 60 to 100 items per minute, is outstanding and easily adjusts to your production needs.
The Sticker Labeling Machine's singular single-point synchronized speed control system, which optimizes labeling accuracy and efficiency by ensuring a harmonious synchronization between the labeling process and the machine's speed, is a distinguishing feature. Additionally, the glue labelling machine has a built-in automated label length detecting mechanism. This removes the need for manual label length data feeding and storing, saving valuable time and avoiding machine downtime due to label size changes or restarts. This simplified method not only boosts productivity but also helps your business operations run more efficiently.
Automatic Round Bottle Sticker Labelling Machine
The Automatic Round Bottle Sticker Labeling Machine is a display of ingenuity, accuracy, and performance by Devikrupa Industries. We are a leading producer of Automatic and Semi-Automatic Sticker Labeling Machines in India because of our everlasting dedication to changing your labeling experience. With Devikrupa Industries, explore the labeling technology of the future.