Automatic Ampoule Filling Machine by Devikrupa Industries
The DI 60 AAFS Automatic Ampoule Filling Machine from Devikrupa Industries is a portable and adaptable tool for flawless glass ampoule filling and sealing. Our ampoule filling machine is the epitome of accuracy and dependability, with uses in the chemical, cosmetic, pharmaceutical, and biotech sectors.
The DI 60 AAFS Ampoule Filling Machine, which was created to serve a wide range of industries, is your solution for efficient filling and sealing procedures. This state-of-the-art device transforms ampoule processing throughout the pharmaceutical industry and beyond. The machine can also handle glass medicinal ampoules with quantities ranging from 1ml to 30ml.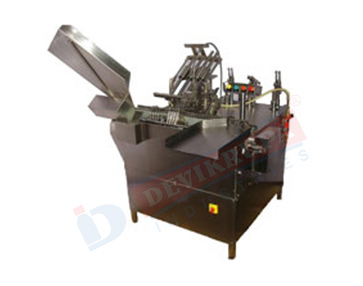 DI 60 AAFS
Each model available from Devikrupa Industries is tailored to specific production needs. With an incredible output of up to 9000 ampoules per hour, our Automatic Six Head Ampoule Filling & Sealing Machine is perfect for big batch manufacturing. The Automatic Four Head Ampoule Filling & Sealing Machine can produce 7200 ampoules per hour, meeting the needs of medium batch sizes. Our Automatic Two Head Ampoule Filling & Sealing Machine has an output capacity of 3300 ampoules per hour for small- to medium-sized batch manufacturing. The Single Head Ampoule Filling Machine is a small and effective option for research and development since it is carefully designed for pilot lab scale activities.
Devikrupa Industries is dedicated to addressing a variety of filling requirements. Our range of ampoule filling machines offers a variety of filling mechanisms, including peristaltic pump-based filling, servo-driven piston pump filling, and standard piston pump filling. We provide specialized tools that are compatible with a variety of ampoule types, including both closed-mouth and open-mouth ampoules.
The fill volume may be adjusted using the machine's user-friendly touch screen interface when using sophisticated servo and peristaltic pump versions, increasing operational flexibility.
Elevate your filling and sealing operations with the DI 60 AAFS Automatic Ampoule Filling Machine from Devikrupa Industries. This filling machine is not just a piece of equipment; it's a testament to our commitment to precision, innovation, and your success.