The operation of the bottle vacuum cleaning machine is ingeniously designed. Bottles are fed through an unscramble to the separator assembly, which then transfers them onto the conveyor belt, guiding them to the cleaning section one by one. Within the cleaning section, a continuous vacuum system is employed. As each bottle reaches this stage, a pair of nozzles initiates a sequence wherein compressed air is directed into the bottle's neck, dislodging particles, while the vacuum system effectively removes these particles.
This advanced Air Jet Vacuum Bottle Cleaning Machine is remarkably versatile, suitable for cleaning a range of containers including Glass, Plastic, and PET Bottles, as well as Jars. Its application extends to non-sterile products like Dry Syrups, Tablets, and Bulk Packing of Capsules.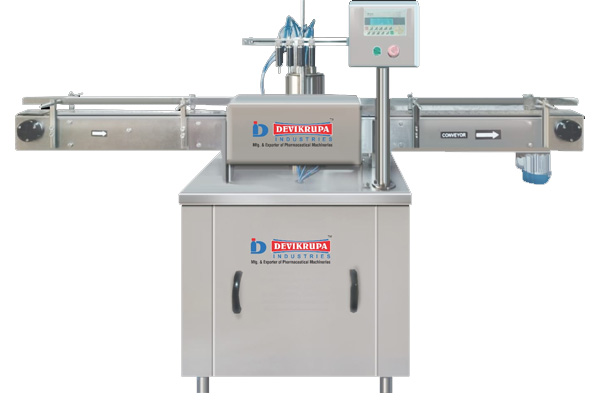 Automatic Bottles Airjet Cleaning Machine
Constructed with precision, the machine is equipped with a built-in turntable that guides containers in a vertical position to the cleaning station. Here, the cleaning heads grasp the containers via cup holders, commencing the compressed air and vacuum cleaning process, ensuring thorough and effective results.
Devikrupa Industries prioritizes quality and durability. The machine boasts a stainless steel finish, with all contact parts composed of premium SS 316 materials. An overload clutch system has been integrated to prevent operational jams. The manifold design includes inner nozzles for precise compressed air jets within the bottle, and an outer socket, which covers the bottle's mouth, connected to an exhaust system, resulting in a flawless cleaning process.
Choose Devikrupa Industries for the Air Jet Vacuum Bottle Cleaning Machine, and elevate your bottle cleaning protocols to new heights of efficiency, reliability, and hygiene. Our commitment to innovation and customer satisfaction ensures that you receive solutions that exceed industry expectations.