Discover the pinnacle of precision and swiftness in ampoule and vial labeling through Devikrupa Industries - Automatic Ampoule Sticker Labelling Machine. In the realm of contemporary ampoule and vial filling, where excellence is paramount, our high-speed ampoule labeler stands as a testament to innovation.
Engineered for the demands of modern production, this high-speed ampoule labeling machine exudes prowess. It's tailored to label ampoules and vials of varying shapes at remarkable speeds. This rotary labeling marvel integrates a seamless blend of mechanical and electronic systems, enabling the application of even transparent or "no look" labels. Moreover, its synchronized speed control system guarantees impeccable label placement.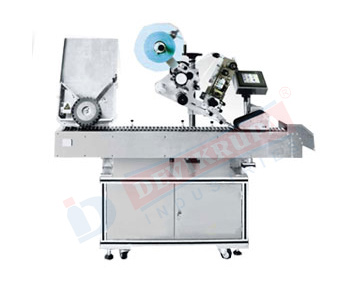 DI 150 AVHSL (ROUND)
High Speed Ampoule Sticker Labeling Machine
If your pursuit is for a machine that not only meets but surpasses high production targets with flawless precision and zero machine downtime, our high-speed vial labeling machine is your ultimate choice. With a remarkable capacity of labeling up to 600 products in a mere minute, it streamlines your operations with unparalleled efficiency. Its distinctive feeding mechanism ensures uninterrupted operation, as the operator can effortlessly feed ampoules or vials while the machine is in motion. This eliminates the need to halt the machine, preserving continuous workflow. Notably, this advanced mechanism safeguards the integrity of your vials and ampoules, establishing it as a sought-after solution.
Automatic Ampoule Sticker Labelling Machine
Crafted from premium stainless steel, our high-speed ampoule labeling machine stands as a testament to durability and reliability. If you seek further insights or an obligation-free quote for our Automatic Ampoule Sticker Labelling Machine, do not hesitate to reach out. At Devikrupa Industries, we are devoted to elevating your production excellence and streamlining your labeling endeavors.